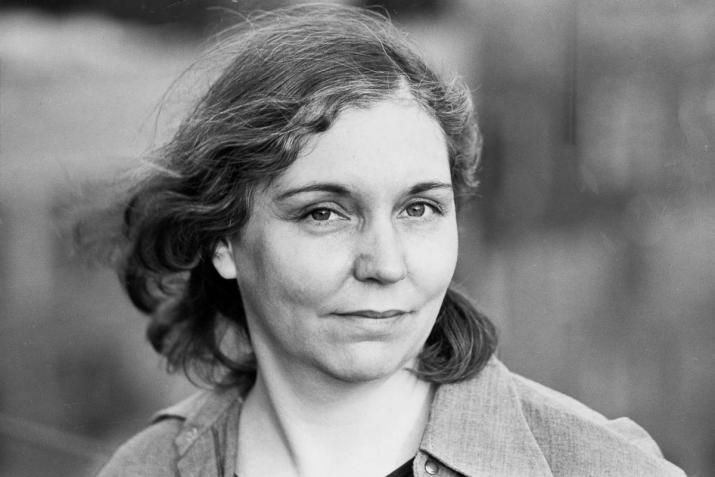 Nancy Holt (April 5, 1938 – February 8, 2014) was an artist who rethought the limits and possibilities of art. Born in Worcester, Massachusetts, Holt grew up in New Jersey and graduated from Tufts University, where she majored in biology. She was a key member of the Earth, Land, and Conceptual art movements. For five decades she asked difficult questions about how we understand our place in the world. Her art continues to inspire artists and thinkers today.
Across her fifty-year career Holt's key explorations were perception, time, and space. She used the natural environment as both medium and subject, inviting perceivers to become conscious of their place in the universe. Throughout her artistic practice she used drawing as a medium to think through her concerns, with her works on paper ranging from careful detailing to mathematical calculations and full renderings, From the mid-1960s Holt created an extensive body of work encompassing concrete poetry, ephemeral gestures, audio works, film and video, photography, drawing, room-sized installations, earthworks, artist's books, and major public sculpture commissions throughout America and Europe.
An analytical thinker, Holt began her early work in concrete poetry in 1966 and engaged in conceptual art practices during the mid-seventies. She participated in landmark exhibitions, such as Language III at Dwan Gallery, New York (1969) and c. 7,500 at the California Institute of the Arts (1973-74), curated by Lucy Lippard. Holt made a number of audio works, including Tour of the John Weber Gallery (1972) and Visual Sound Zones (1972-79), looped recordings describing in detail phenomena in a given space that were played back on loudspeakers. In 1969 she began her Buried Poems series where she wrote poems for friends and buried them in disparate locations in England, Florida, Utah, and New Jersey. In the 1980s Holt created the influential artist book Ransacked: Aunt Ethel: An Ending (1980, Printed Matter / Lapp Princess Press, New York) and Time Outs (1985, Visual Studies Workshop, Rochester).
Holt's early involvement with photography played a role in later sculptural works, which she described as "seeing devices, fixed points for tracking the positions of the sun, earth and stars." Holt's aesthetic and social interests converge in her public observatories, which reflect her determination to "connect people with the planet earth" and to render the vast spaces of the cosmos at human scale. Her large-scale environmental works Sun Tunnels (1973–76, Great Basin Desert, Utah) and Dark Star Park (1970–84, Arlington County, Virginia) are her most discussed outdoor site-specific sculptures. These works create possibilities for intimate connections to nature, in particular the stars. Holt explained, "I feel that the need to look at the sky—at the moon and the stars—is very basic, and it is inside all of us. So when I say my work is an exteriorization of my own inner reality, I mean I am giving back to people through art what they already have in them."
From the 1970s Holt created room-sized installations. Holes of Light (1973) and Mirrors of Light (1974) explore light and perception, while her System Works of the 1980s expand architectural arteries. The System Works include Electrical System (1982), Hot Water Heat (1984), and Ventilation System (1985-92). These functional sculptural installations use standard industrial materials for heating, ventilation, lighting, and drainage.  Holt explained how these "sculptures are exposed fragments of vast hidden networks. They are part of open-ended systems, part of the world." In the last decade of her life, Holt was involved in both creating new works and revisiting her archive to excavate her consistent exploration of perceptual processes. Her groundbreaking artworks continue to have a powerful impact on the development of a broad spectrum of art across the world.
Holt's work is the focus of an ambitious 2021 exhibition at Lismore Castle Arts in Ireland, Light and Language, bringing five decades of her work in conversation with five artists working today: A.K. Burns, Matthew Day Jackson, Dennis McNulty, Charlotte Moth, and Katie Paterson. The university art museums at the University of Massachusetts, Dartmouth and Western Washington University are planning solo exhibitions of Holt's work in 2021 and 2022 respectively. In 2022 Holt is the subject of a major retrospective at Bildmuseet, Sweden.
Holt's work is held in major public collections, including Dia Art Foundation, New York; Museum of Modern Art, New York; Museum für Gegenswartkunst, Germany; Utah Museum of Fine Arts; and Whitney Museum of American Art. In 2018 Sun Tunnels and Holes of Light were acquired by Dia Art Foundation, with support from Holt/Smithson Foundation.  
Holt has been included in major survey exhibitions including Ends of the Earth: Land Art to 1974 at Museum of Contemporary Art, Los Angeles and Haus der Kunst, Munich (2012-13) and Light Show at the Hayward Gallery, London (2013).
In 2010-12 the retrospective Nancy Holt: Sightlines travelled from the Wallach Art Gallery, Columbia University, New York, to venues in Karlsruhe, Boston, Chicago, Santa Fe, and Salt Lake City. The exhibition was accompanied by a major monograph by Alena J Williams, published by the University of California Press.
Other notable recent exhibitions include Nancy Holt: Points of View, Parafin, London (2020);  Dia Art Foundation, New York (2018); Nancy Holt: Land Art, Whitworth Art Gallery, Manchester (2013);  Nancy Holt: Selected Film and Photo Works, Contemporary Art Gallery, Vancouver (2013); and Nancy Holt: Photoworks, Haunch of Venison, London (2012).
Works by Holt are permanently installed at public institutions, including Miami University Art Museum; University of Massachusetts; Western Washington University; and University of South Florida.
In 2012 Nancy Holt was made a Chevalier of the of the Ordre des Arts et des Lettres by the French Government. In 2013 she was presented with a Lifetime Achievement Award by the International Sculpture Center in New York. From 1973 Nancy Holt cared for the Estate of Robert Smithson, who she married in 1963. In 2014 she willed Holt/Smithson Foundation into being, which continues the creative legacies of both Holt and Smithson.
I wanted to bring the vast space of the desert back to human scale.
Nancy Holt in Sun Tunnels, 1977
Published in Artforum, April 1977