Nancy Holt: Locating Perception
Oct 28, 2022 – Jan 14, 2023
Public Reception: October 28, 2022, 6–8pm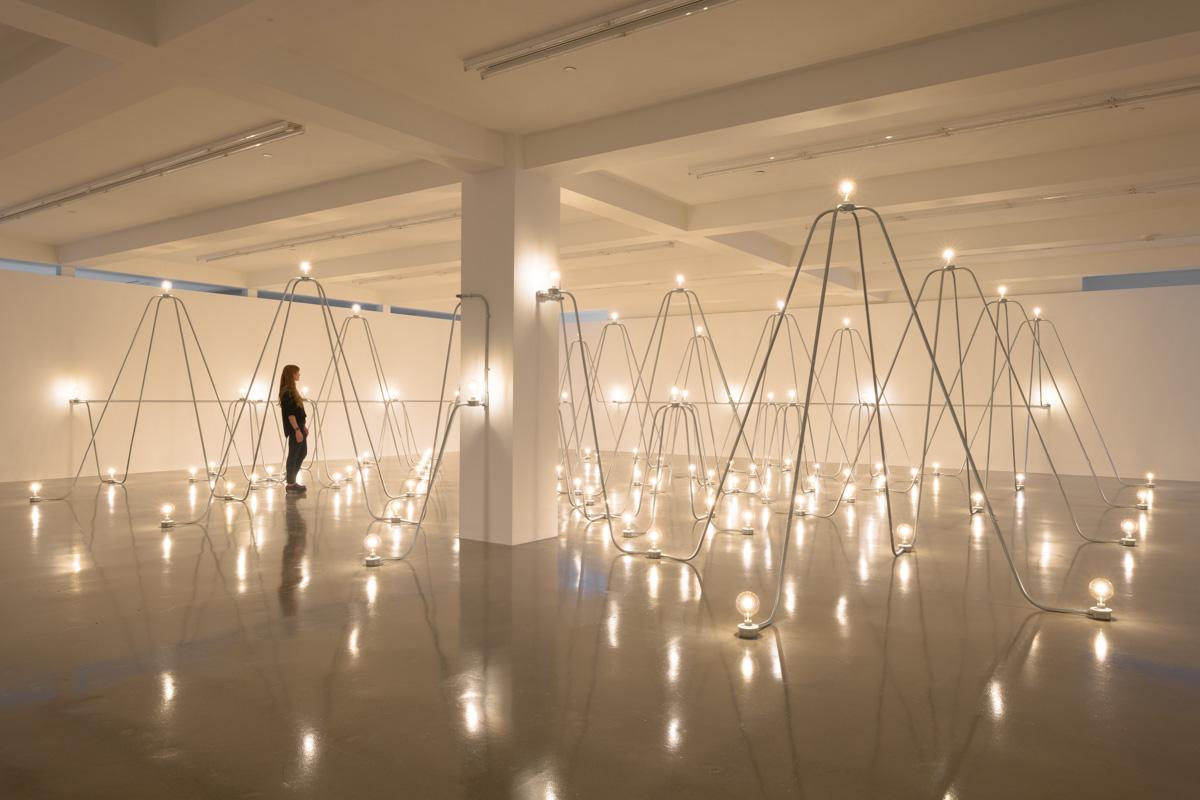 Holt/Smithson Foundation is pleased to announce that Nancy Holt: Locating Perception launches at Sprüth Magers, Los Angeles on October 28, showing through to January 14, 2023. This is the first exhibition of Nancy Holt (1938–2014) at the Los Angeles gallery. Three major photographic series, a room-sized installation, an audio-work, and a selection of her Locator sculptures fill two floors of the LA gallery.
Nancy Holt: Locating Perception addresses Holt's consistent examination of how we attempt to understand our place in the world. Holt is one of the most important figures of earth, land, and conceptual art movements. An innovator of site-specific installation and the moving image, she recalibrated the limits of art, expanding the places where art could be found and embracing the new media of her time. Across five decades Holt made the imponderables of space, time, and location as her central concerns. Her rich artistic output expands from concrete poetry to audio and photography, to film and video, room-sized installations, earthworks, public sculpture commissions, architectural interventions, artists' books, accompanied by a constant practice of drawing.
Photography was an essential medium for Holt: it enabled "vision to be fixed," as she often said. From 1968 she traveled through the US Interstate Highway System to create visual poems from repeating observed occurrences of human marks in the landscape.  California Sun Signs (1972) is a visual poem collecting the word "sun" as it appears in nineteen commercial and infrastructural contexts throughout California. Uniting disparate sites into a solar-ordered system in vibrant images, she reveals common inferences and conceptions of the sun. Western Graveyards (1968) brings together sixty pared-back gravesites in Lone Pine, California and Virginia City, Nevada—sites full of enduring sculptural concerns with memorial and material encounters. Some graves are marked with names to be remembered: mother, father, Baby Baxter. Some map out a space for rest in stone, shells and fences. A few rise into ruin, headstones slip to the ground, protective railings buckle, flower bushes dry out.
Photography for Holt was a language, as well as a medium. In 1971 she created her first sculptures, "seeing devices" as she called them, drawing attention to visual perception and place. The Locators comprise industrial piping welded into a T-shape and are to be looked through with one eye. They direct attention to the time-bound processes of vision. In 1992 she recalled: "I woke up one morning, I went to a welding place, made some of these Locator pieces, and overnight I had produced physical objects. They weren't things that you looked at, but they were things you looked through. I would zero in on something you wouldn't notice at all until you looked through my Locator, and then you would be kind of startled." The first Locators looked out from the windows of her studio in the West Village neighborhood of New York on details, such as a cracked window or a ventilation pipe. She soon became more interested in the process of seeing than in the subject of sight. Locator Spotlight with Sunlight (1972) explores the difference between light formed by the sun and the electricity power system. Locator P.S.1 (1980) looks up to an irregular shape that becomes a circle when viewed through the Locator, and down to an outline that likewise shifts to a circle. The Locators directly led to Holt's landmark earthwork Sun Tunnels (1973–76), located in the Great Basin Desert, Utah.
The upper gallery is filled with Electrical System (1982), one of Holt's System Works that expose resources so common to contemporary life that their visual, tangible existence often goes forgotten. Electrical System consists of lightbulbs connected by a long metal conduit that curves and winds, inviting viewers to meander through arches of light. The System Works, like her formative text, audio and light investigations, make use of found systems to reveal what is unseen. They are formed from standard industrial materials designed for introducing heating, ventilation, lighting and drainage into the built environment—as Holt noted, they expose "fragments of vast, hidden networks" that are "part of vast open-ended systems, part of the world."
Holt's works—be they materialized in sound, on paper, as an object, a moving image, an earthwork, an extension of architectural systems, a sculpture to look through, or a single sentence—are invitations to stop, to look, to think, to pay attention, to observe the world as it changes, and with this to recognize the systems that structure and locate perception.