Ecstatic Land
Oct 26, 2022 – May 7, 2023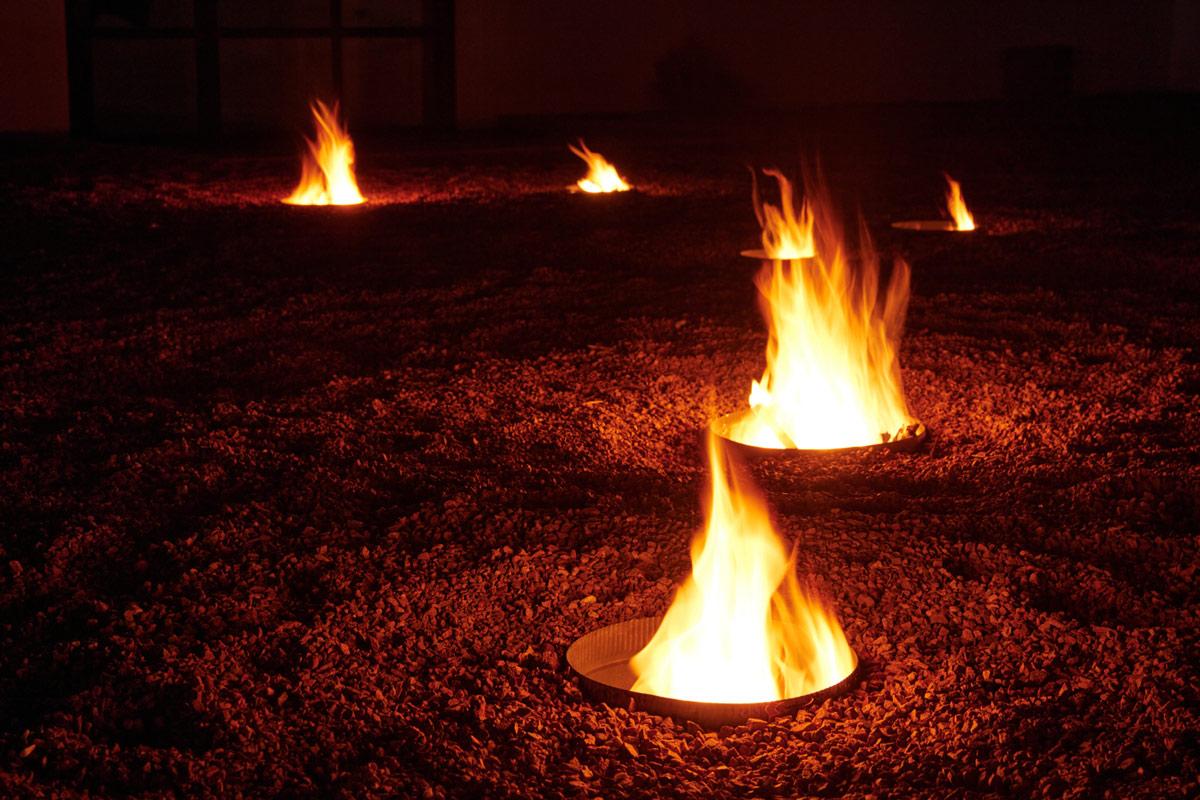 Works by Nancy Holt are currently on view in the exhibition Ecstatic Land at Ballroom Marfa. Inside the gallery space is Holt's 1985 sculpture Electrical Lighting for Reading Room: a room-sized installation built of standard industrial materials that are part of Holt's series of System Works. The undulating network of conduit and light engages three walls of the room, and the lower row of lights can be turned on and off by visitors pulling the chain connected to each light. The sculpture makes the visitor aware of the flow of electricity all around them and the systems in place to provide the electricity.
In the courtyard of Ballroom Marfa is the first posthumous presentation of Starfire, a work Holt first presented in Alaska in 1986. The work consists of eight small firepits set into the ground in the formation of the Big Dipper and North Star. The firepits are lit at night, bringing the fire of the night's sky down to the earth. 
From Ballroom Marfa: Ecstatic Land is an exhibition and screening series that brings together a multigenerational group of artists whose works explore the intersecting vitalities of the land and self. The word ecstatic comes from the Greek ἔκστασις [ekstasis], meaning "to stand outside oneself." In nature, and particularly in the vast expanses of the desert, one can experience physical contact with the earth while being emotionally and psychologically transported elsewhere. This affect, present in the artworks in Ecstatic Land, connects material and exterior sites with interior, emotional, psychic states. Land is celebrated as a living force, and the exhibiting artists' photographs, paintings, films, videos, sculptures, and sounds harmonize the pleasures of seeing what's around us with those of inward reflection. 
Western art-historical traditions of the landscape genre largely focus on the framing of particular views of nature, often as demonstrations of power and control. And while the artists in Ecstatic Land each reference the natural world, they are not creating landscapes per se. Rather than reproducing or framing views, their works reveal new subjectivities and methods for perceiving shared environments. These artworks transport us beyond sight, reconnecting us to the world through embodied experiences. Challenging and expanding single-point perspectives, these artists offer personal views that would otherwise be invisible, intangible or overlooked. Their approaches run counter to the privatization, misuse, and over-consumption of common spaces and resources. Ecstatic Land proposes ways to live dynamically, critically, queerly, and consciously on and with the land.
Ecstatic Land is co-organized by Guest Curator Dean Daderko and Ballroom Marfa Director and Curator Daisy Nam, with assistance from Alexann Susholtz, Ballroom Marfa Curatorial and Exhibitions Assistant.