Groundswell: Women of Land Art
Sep 23, 2023 – Jan 7, 2024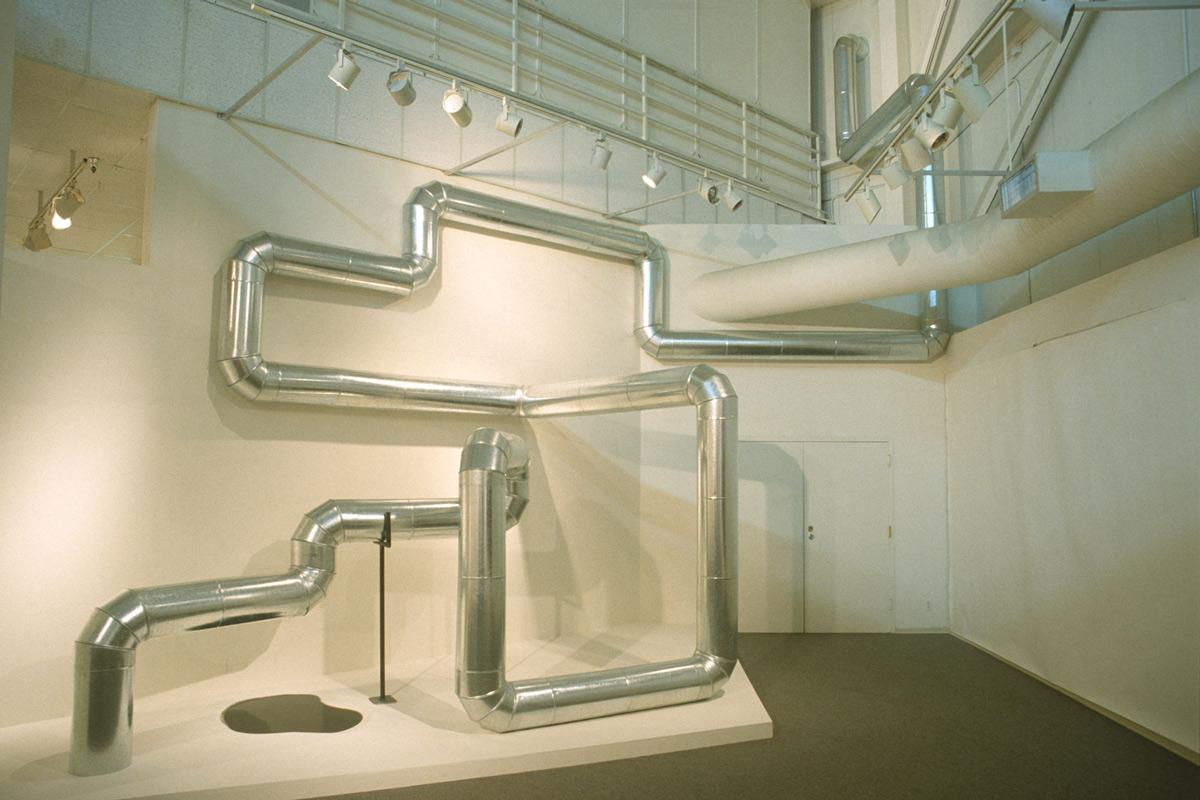 This fall the Nasher Sculpture Center in Dallas, Texas launches the exhibition Groundswell: Women of Land Art.  The exhibition features a number of significant works by Nancy Holt, including the first posthumous presentation of Pipeline (1986).
Holt created the System Work Pipeline in response to time spent in Alaska observing the Trans-Alaska Pipeline in 1986 at the invitation of the Visual Arts Center of Alaska. The installation consists of steel duct—meant to evoke the massive pipeline that winds its way through the Alaskan landscape—which here originates outside the front entrance to the Nasher Sculpture Center, snakes through the main entrance gallery, and ultimately terminates in the outdoor sculpture garden. One section of Pipeline drips oil that forms a dark reflective pool, reminding us, as Holt writes, "more frequently than most people realize, breakdowns occur—pipes crack or rust out, oil spills."
In addition to Pipeline, there are several other Holt works on view in Groundswell which illustrates her continued engagement with Land art throughout her life, including previously unexhibited drawings related to Sun Tunnels (1973-76), a scale model for Sun Tunnels, the film Sun Tunnels (1978), and Locator P.S.1 (1980). On view in the downstairs galleries are drawings that relate to Holt's later public projects, including Sky Mound (1984—) and Dark Star Park (1979-84).
From Nasher Sculpture Center:
Using materials like earth, wind, water, fire, wood, salt, rocks, mirrors, and explosives, American artists of the 1960s began to move beyond the white cube gallery space to work directly in the land. With ties to Minimal and Conceptual art, these artists placed less emphasis on the discrete object and turned their attention to the experience of the artwork—however fleeting or permanent that might be—foregrounding natural materials and the site itself to create works that were large in scale and located outside of typical urban art world circuits.
For many years, art historical narratives of Land art have been dominated by men: Robert Smithson, Michael Heizer, Walter de Maria, Robert Morris, Dennis Oppenheim, Richard Long, and others. Groundswell: Women of Land Art, intends to shift that focus to shed new light on the vast number of Land works by women artists, whose careers ran parallel to their better-known male counterparts, yet have received less recognition and representation in museum presentations.
Groundswell features 12 artists recognized for their sustained engagement with Land art: Lita Albuquerque (American, born 1946); Alice Aycock (American, born 1946); Beverly Buchanan (American, 1940–2015); Agnes Denes (American, born Hungary, 1931); Maren Hassinger (American, born 1947); Nancy Holt (American, 1938–2014); Patricia Johanson (American, born 1940); Ana Mendieta (American, born in Cuba, 1948–1985); Mary Miss (American, born 1944); Jody Pinto (American, born 1942); Michelle Stuart (American, born 1933); and Meg Webster (American, born 1944).
Through works made from the late 1960s through 1990, Groundswell provides a broad overview of themes and artworks that are integral to understanding the history of Land art. While most scholarship on the field tends to focus on the decades of the 1960s and 1970s, broadening this time frame allows us to chart the emergence of Land art in the 1960s, its so-called decline in the 1970s, and artists' transition from working in rural, unpopulated settings to creating Land art in urban centers with the emergence of public art programs and art parks that flourished around the United States in the late 1970s and early 1980s.
Curated by Nasher Associate Curator Dr. Leigh A. Arnold and organized by the Nasher Sculpture Center, Groundswell: Women of Land Art is accompanied by a fully illustrated scholarly catalogue with a central essay by Dr. Arnold, and contributions by Scout Hutchinson, Jana La Brasca, Anna Lovatt, Jenni Sorkin, and Anne Thompson, co-published by the Nasher Sculpture Center and DelMonico Books.