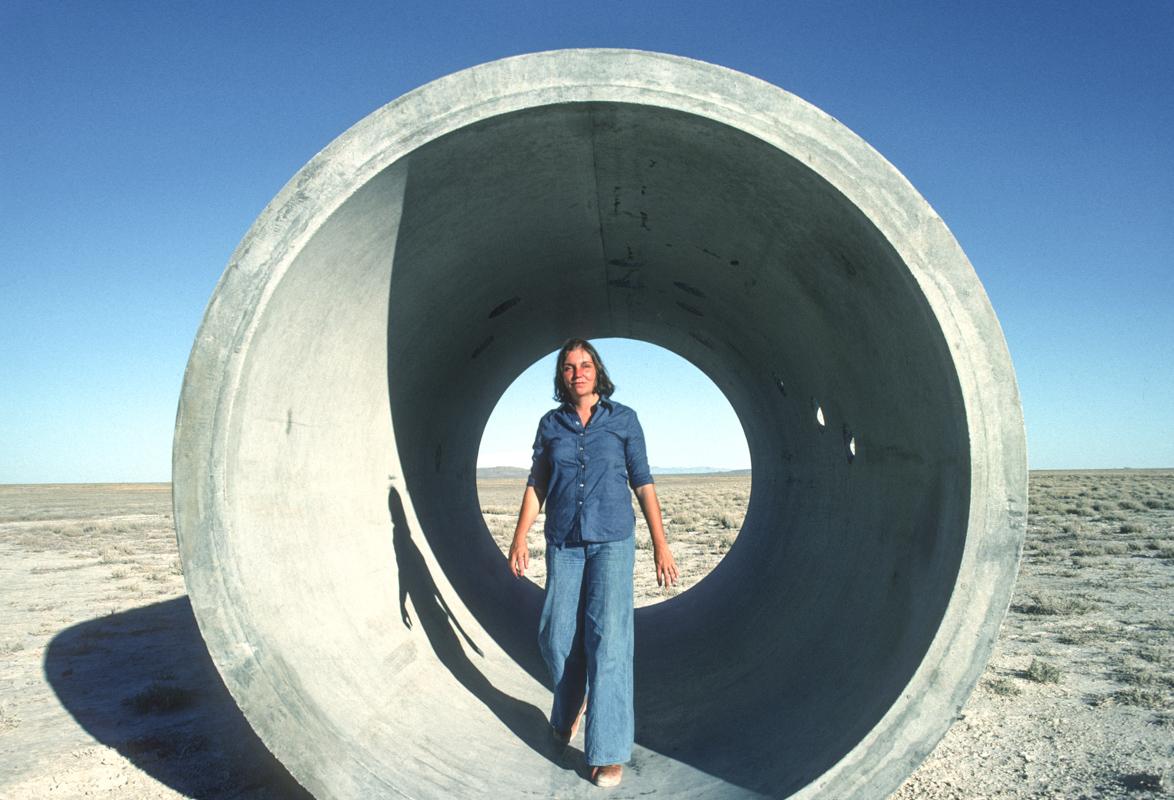 2023 Annual Lecture: Rebecca Solnit at the New Mexico Museum of Art
Holt/Smithson Foundation announces the second in the ten-year series of Annual Lectures, an initiative that invites artists, writers, and thinkers to raise questions and present research extending the creative legacies of the artists Nancy Holt and Robert Smithson. Over the course of a decade, the Foundation will partner with a new institution each year to host lectures in ten distinct locations, each significant to Holt and Smithson.
The second Annual Lecture takes place at the New Mexico Museum of Art in Santa Fe on Saturday April 1, 2023 where the keynote speaker is Rebecca Solnit. The event will start with a presentation by DesertArtLAB, and will close with a discussion between Solnit, writer and activist Lucy Lippard and Executive Director of Holt/Smithson Foundation, Lisa Le Feuvre. The event will be livestreamed. In 1995 Nancy Holt moved to Galisteo, New Mexico and Santa Fe is the home base of Holt/Smithson Foundation.
Solnit's 2023 Holt/Smithson Foundation Annual Lecture is titled "Everything Is Connected: Nancy Holt in the Landscape of Ideas." She will talk about Nancy Holt as an environmental artist who points the viewer toward perception of order and pattern already present in the landscape, focusing on Holt's commitment to directing viewers toward a deep engagement with place and paying attention to her thinking in the larger contexts of her time and of ours. Solnit will contemplate Holt as a student of Buddhism, whose teachings emphasize nonseparation and nonduality; as a New Mexican living in a landscape where Indigenous worldviews have a strong presence; and as a citizen of a time in which scientists increasingly show us a world of mutuality, collaboration, and interconnection. She will also think about the weather: the climate movement recognizes interconnectedness as the necessary basis for our political decisions about energy, land, nature, and values.
Event details
Location:     
Saint Francis Auditorium at New Mexico Museum of Art, 107 West Palace Ave, Santa Fe, New Mexico 87501
Schedule:   
DesertArtLAB: presentation at 11:30 PM, followed by a conversation with Lisa Le Feuvre
Rebecca Solnit: presentation at 1:30 PM, followed by a conversation with Lucy Lippard, mediated by Lisa Le Feuvre
Tickets are free, with booking recommended           
Learn more about the event and the speakers in the second Annual Lecture on this page.
Nancy Holt standing in one of the Sun Tunnels in Utah's Great Basin Desert in 1976
Photograph: Ardele Lister
© Holt/Smithson Foundation / Licensed by Artists Rights Society, New York