2023—Rebecca Solnit at the New Mexico Museum of Art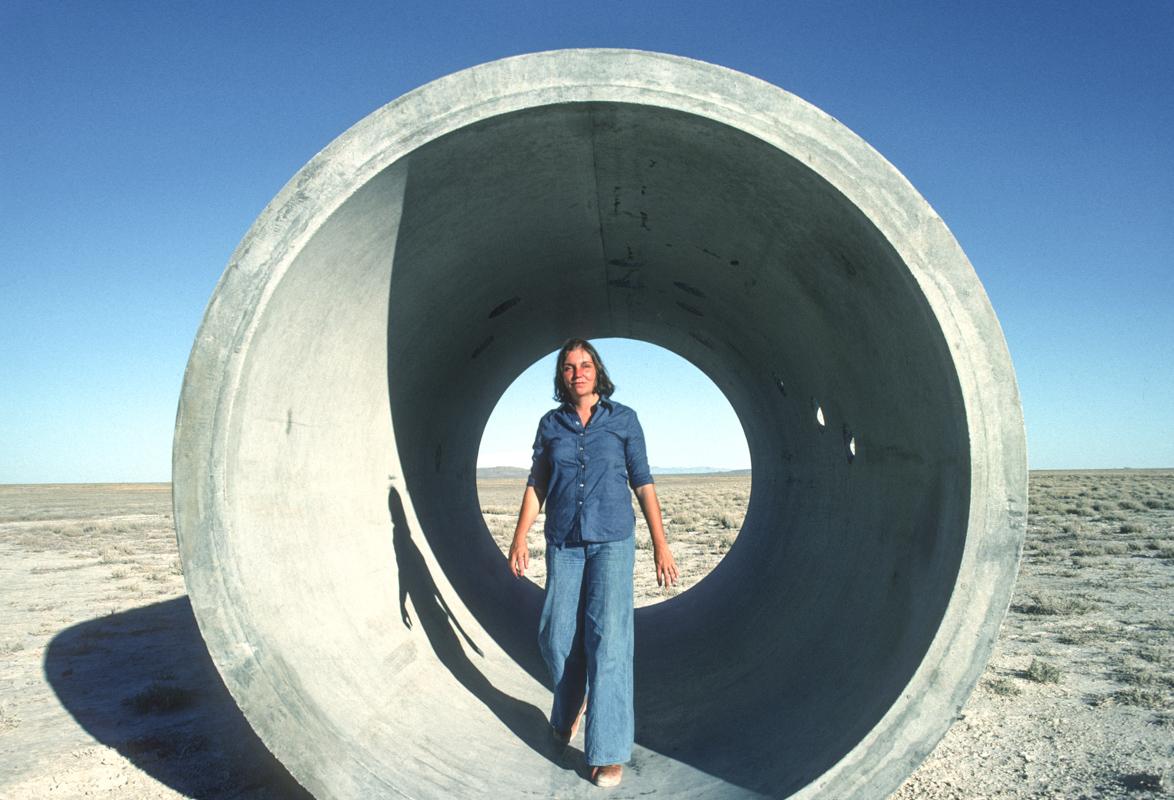 Rebecca Solnit at the New Mexico Museum of Art with an in-conversation with Lucy Lippard and a presentation by DesertArtLAB
Holt/Smithson Foundation announces the second in the ten-year series of Annual Lectures, an initiative that invites artists, writers, and thinkers to raise questions and present research extending the creative legacies of the artists Nancy Holt and Robert Smithson. Over the course of a decade, the Foundation will partner with a new institution each year to host lectures in ten distinct locations, each significant to Holt and Smithson.
The second Annual Lecture takes place at the New Mexico Museum of Art in Santa Fe on Saturday April 1, 2023 where the keynote speaker is Rebecca Solnit. The event will start with a presentation by DesertArtLAB, and will close with a discussion between Solnit, writer and activist Lucy Lippard and Executive Director of Holt/Smithson Foundation, Lisa Le Feuvre. The event will be livestreamed. In 1995 Nancy Holt moved to Galisteo, New Mexico and Santa Fe is the home base of Holt/Smithson Foundation.
Solnit's 2023 Holt/Smithson Foundation Annual Lecture is titled "Everything Is Connected: Nancy Holt in the Landscape of Ideas." She will talk about Nancy Holt as an environmental artist who points the viewer toward perception of order and pattern already present in the landscape, focusing on Holt's commitment to directing viewers toward a deep engagement with place and paying attention to her thinking in the larger contexts of her time and of ours. Solnit will contemplate Holt as a student of Buddhism, whose teachings emphasize nonseparation and nonduality; as a New Mexican living in a landscape where Indigenous worldviews have a strong presence; and as a citizen of a time in which scientists increasingly show us a world of mutuality, collaboration, and interconnection. She will also think about the weather: the climate movement recognizes interconnectedness as the necessary basis for our political decisions about energy, land, nature, and values.
Event details
Location:     
Saint Francis Auditorium at New Mexico Museum of Art, 107 West Palace Ave, Santa Fe, New Mexico 87501
Schedule:         
10:50             Doors open
11:00 am      Welcome / orientation: Shannon Bay (Deputy Director of New Mexico Museum of Art)
11:10 am       DesertArtLAB presentation
11:50 am      Lisa Le Feuvre (Executive Director, Holt/Smithson Foundation) chairs discussion, with audience invited to respond
12:10 pm      Morning session closes
1:15 pm         Doors open
1:30 pm        Welcome back: Shannon Bay
1:35 pm        Rebecca Solnit presentation
2:10 pm        Lucy Lippard joins Rebecca Solnit, with Lisa Le Feuvre as chair with audience invited to respond
2:40 pm       Discussion closes
Tickets are free, with booking recommended         
Livestream Links
Holt/Smithson Foundation Annual Lecture Series- Morning Session
Holt/Smithson Foundation Annual Lecture Series- Afternoon Session
https://www.youtube.com/@nmmoa
About the Speakers
Rebecca Solnit is the author of more than twenty books, including Recollections of My Nonexistence, A Field Guide to Getting Lost, The Faraway Nearby, A Paradise Built in Hell, River of Shadows, and Wanderlust: a history of walking. She is also the author of Men Explain Things to Me, Orwell's Roses, and many essays on feminism, activism and social change, hope, and the climate crisis.
DesertArtLAB is an interdisciplinary environmental art collaborative co-directed by April Bojorquez and Matt Garcia, who are based in Pueblo, Colorado. Their work promotes Indigenous/Chicanx perspectives on ecological practice, food sovereignty, self-determination, and climate change, and the day will start with their presentation "The Desertification Cookbook: Revitalizing Desert Wasteland through Land Art." They will discuss how development in desert cities have created new homes and opportunities in the Southwest but has also stripped away parts of the natural environment and its rich history. They will ask how urban pockets of degraded land be revitalized, and if the history and the ecological value of these places can be reclaimed sustainably. Garcia and Bojorquez will discuss the development of their land art project, from its roots in Phoenix to its realization in Pueblo.
Lucy R. Lippard is a writer and activist. She writes prolifically for magazines and exhibition catalogues, is author of twenty-four books on contemporary art and cultural criticism, including one novel and an artist's book, and many of her writings have been anthologized. Lippard has realized performances, comics, street theatre; curated some fifty exhibitions; and has been an active member of artists' groups, including Artworkers' Coalition, Ad Hoc Women Artists, Artists Meeting for Cultural Change, and Women's Action Coalition. She has written extensively on the work of Nancy Holt and Robert Smithson.
Holt/Smithson Foundation Annual Lecture Series launched in 2022, at the Whitney Museum of American Art in New York. The third Annual Lecture will take place at the Utah Museum of Fine Arts (UMFA), Salt Lake City; the fourth at Dartington College, Dartmoor, UK, in 2025; and the fifth at the Archives of American Art, Washington D.C., in 2026. The further lectures in this roaming series will continue through to 2030, each in a location significant to Holt and Smithson. From 1963 Holt and Smithson lived together in the West Village in New York City, a few blocks from the Whitney; from 1995 Holt lived in Galisteo New Mexico; Utah is the location of the landmark earthworks, Holt's Sun Tunnels (1973-76) Smithson's Spiral Jetty (1970); Holt and Smithson visited Dartmoor in 1969, where they made a series of artworks; and the Archives of American Art is the home to the papers of Holt and Smithson.
When the New Mexico Museum of Art opened in 1917 it was the first building in the state dedicated to art. Its galleries, reception areas and St. Francis auditorium were made by the people of New Mexico for the promotion of the state's rich culture to visitors and locals alike. Throughout its century long history, the museum has grown and redefined itself to adapt to changes in art and museum practices. The New Mexico Museum of Art fosters a deeper understanding and enjoyment of art throughout the state and beyond and works with art and artists to explore the human experience, new ideas, and diverse cultures.