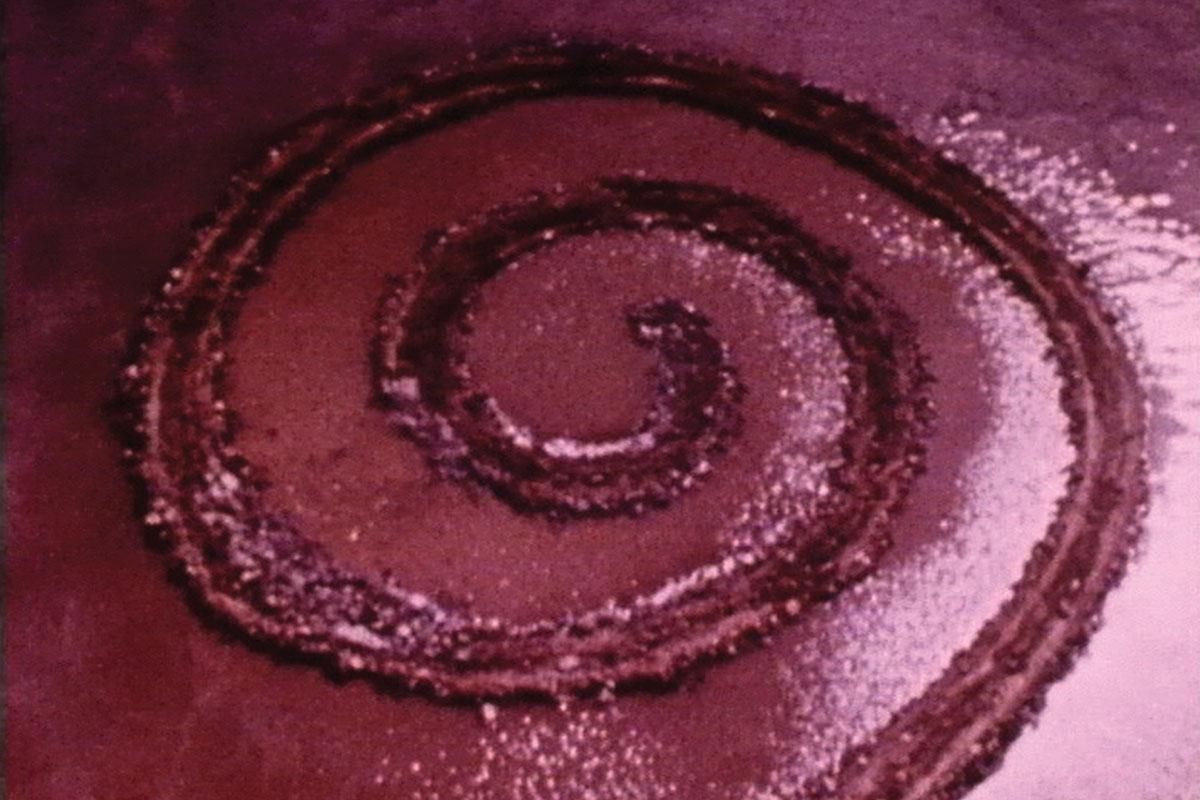 Weekend Screening: Robert Smithson's "Spiral Jetty"
Today we begin our second season of Holt/Smithson Foundation Friday Films! We are kicking off this program with a screening of Robert Smithson's Spiral Jetty (1970).
Spiral Jetty is one of the five films included in the solo exhibition Hypothetical Islands at Marian Goodman Gallery London, which is the first solo exhibition of Smithson's work in the UK. While in person-viewing of this exhibition is currently suspended in compliance with the national mandate in the UK, we will be screening one of the five films on view in the exhibition online every weekend throughout the end of the year. View the full schedule here.
We are delighted to present a special guest video introduction to Spiral Jetty by artist Melanie Smith. Born in Poole, England, Melanie Smith studied painting at University of Reading, and then moved to Mexico City where she has lived and worked since 1989. Her 2002 work Spiral City responds to Smithson's Spiral Jetty in the context of the Mexico City's grid and urban expansion. She writes, "Whereas Smithson's film follows the movement of the artist along the in turning spiral, Spiral City plays off the counterpoint of Mexico City's grid, working against the upward movement of the camera flying in widening spirals. The film is a testament to a city that is subject to a crystalline like erosion, whereby structures build upon each other and collapse, as well as being a haunting cartography of the future." Click here to watch Melanie Smith's introduction to Spiral Jetty.
Spiral Jetty will be available on Vimeo and InstagramTV from 12 p.m. Mountain Time on Friday, November 13 through to 12 p.m. Mountain Time on Monday, November 16.
Spiral Jetty is a discontinuous narrative, part science fiction, part document, part travelogue. On the soundtrack Smithson describes "the earth's history seems at times like a story recorded in a book each page of which is torn into small pieces. Many of the pages and some of the pieces of each page are missing." He described that in the film set out to make this "fact" material.
In the first shots on the road heading to the Great Salt Lake, you will see time going forwards and backwards. Smithson described this as a "cosmic rupture" in his "cinematic universe." In the final shots a large depiction of Spiral Jetty the earthwork hangs on the back wall of a film studio. The image was taken by Gianfranco Gorgoni, who took some of the most iconic photographs of the earthwork, and the studio belongs to Robert Fiore, who worked with Smithson on the making of this film.
We hope you join us next week for Nancy Holt's 1971 film Mangrove Ring, which documents a sculpture Smithson created while traveling in Florida.
Still from Robert Smithson, Spiral Jetty (1970)⁠
16 mm film on video, color, sound, ⁠
Duration: 35 minutes⁠
© Holt/Smithson Foundation, Licensed by VAGA at ARS⁠
Distributed by Electronic Arts Intermix, New York⁠