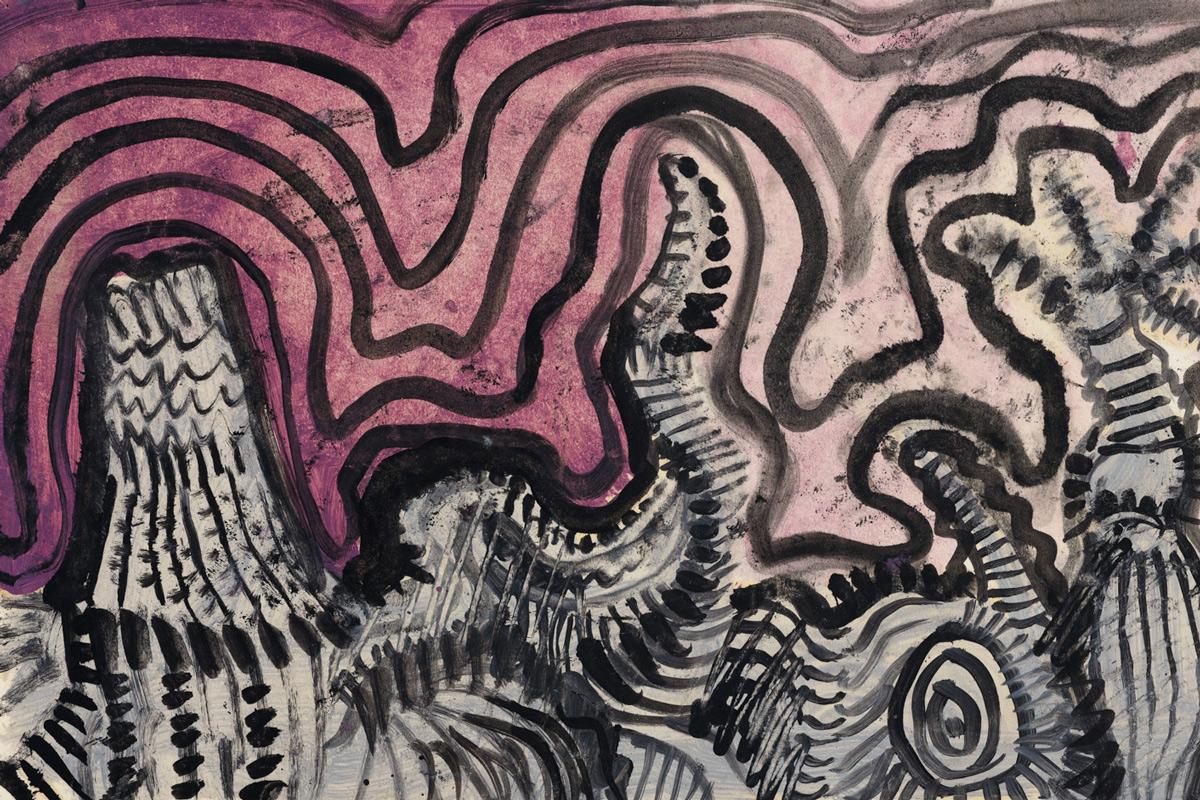 Robert Smithson: Primordial Beginnings launches at Galerie Marian Goodman, Paris
Robert Smithson: Primordial Beginnings is currently on view at Galerie Marian Goodman, Paris and will be on show though to January 9, 2021.
Primordial Beginnings investigates Smithson's exploration of, as he said in 1972, "origins and primordial beginnings, […] the archetypal nature of things."
This careful selection of works on paper demonstrates how Smithson worked as, to use his words, a geological agent. He presciently explored the impact of human beings of the surface of our planet. The earliest works are fantastical science fiction landscape paintings embedded in geological thinking. These rarely seen paintings from 1961 point to his later earthworks and proposals for collaborations with industry.
Between 1961 and 1963 Smithson developed a series of collages showing evolving amphibians and dinosaurs. Paris in the Spring (1963) depicts a winged boy atop a Triceratops beside the Eiffel Tower, while Algae Algae (ca. 1961-63) combines paint and collage turtles in a dark green sea of words.
For Smithson, landscape and its inhabitants were always undergoing change. In 1969 he started working with temporal sculptures made from gravitational flows and pours, thinking through these alluvial ideas in drawings. The first realized flow was Asphalt Rundown, in October 1969 in Rome, and the last, Partially Buried Woodshed, took place on the campus of Kent State University in Ohio. A selection of drawings related to these important event sculptures are on display in Primordial Beginnings. Smithson was invested in a definition of sculpture that was timebound and precarious, that would not claim monumental status, and would instead collaborate with entropy.
Primordial Beginnings is Robert Smithson's first exhibition at Galerie Marian Goodman. It is accompanied by a simultaneous exhibition, Hypothetical Islands, at Marian Goodman Gallery, London. Both exhibitions feature rarely seen works from the personal collection of Nancy Holt.
To protect visitors and staff, and mitigate exposure to COVID-19, face coverings are required for entry and must be worn at all times. Capacity will be limited and visitors must maintain proper social distance. For details contact the gallery.
Robert Smithson, Untitled (detail) (1961)
Paint on Paper
11 1/2 x 24 in. (29.2 x 61 cm)