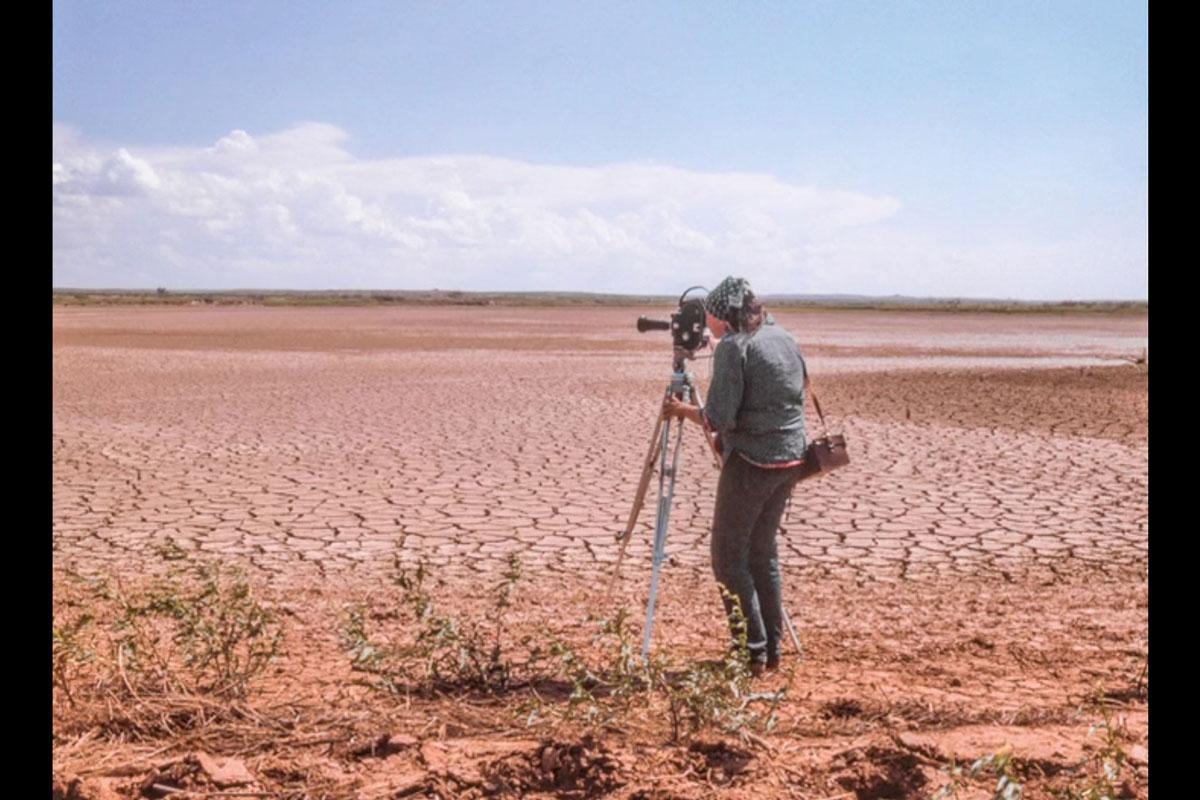 Holt/Smithson Foundation Friday Films — "The Making of Amarillo Ramp" on May 22, 2020
Through April and May 2020 Holt/Smithson Foundation invites you to join us for our Friday Film Program.
Every Friday until the end of May we present a selected moving image work by Nancy Holt and/or Robert Smithson on Vimeo and IGTV for twenty-four hours. The program starts at 12 noon Friday on Mountain Time (the time zone of our home base in New Mexico), and runs to 12 noon on Saturday.
Our eighth, and penultimate, Friday screening heads to Amarillo, Texas with Nancy Holt's The Making of Amarillo Ramp (1973/2013).
The film will be available between 12 noon Friday May 22 and 12 noon Saturday May 23 MDT.
Nancy Holt's film documents the construction of Robert Smithson's final earthwork Amarillo Ramp (1973). The Making of Amarillo Ramp begins with a quote from Fragments of an Interview, a 1969 dialogue between Smithson and the artist Patricia Norvell. In the published interview, Smithson describes "When I get to a site that strikes the kind of timeless chord, I use it. The site selection is by chance. There is no wilful choice. A site at zero degree, where the material strikes the mind, where absences become apparent, appeals to me, where the disintegrating of space and time seems very apparent. Sort of an end of selfhood . . .  the ego vanishes for a while."
This site of Amarillo Ramp is seventeen miles northwest of Amarillo, Texas on the edge of the Tecovas Lake—a constructed dam, that today is dry. On July 20, 1973, while photographing the site of the earthwork in progress, Smithson died in a small airplane accident, along with pilot Gale Ray Rogers and photographer Robert E. Curtin. After Smithson's passing, Nancy Holt, Richard Serra, and Tony Shafrazi completed Amarillo Ramp according to Smithson's specifications.
This film documents the sounds and actions of the powerful machinery necessary to create an earthwork of this scale, underscoring the human skill and personal relationships that were integral to the completion of the work. As with our final film in the Friday Film Program, Mono Lake, this film has two dates: the year when shot, and the year when edited. The film was shot on site using 16 mm film (which Holt transferred to video in the 1990s) and photography in 1973, and was edited in 2013—the film is also Holt's final work—for the exhibition Robert Smithson in Texas.
Still from Nancy Holt, The Making of Amarillo Ramp (1973/2013)
16 mm film
Color, sound
Duration: 31 minutes, 52 seconds
© Holt/Smithson Foundation, licensed by VAGA at ARS, New York
Distributed by Electronic Arts Intermix