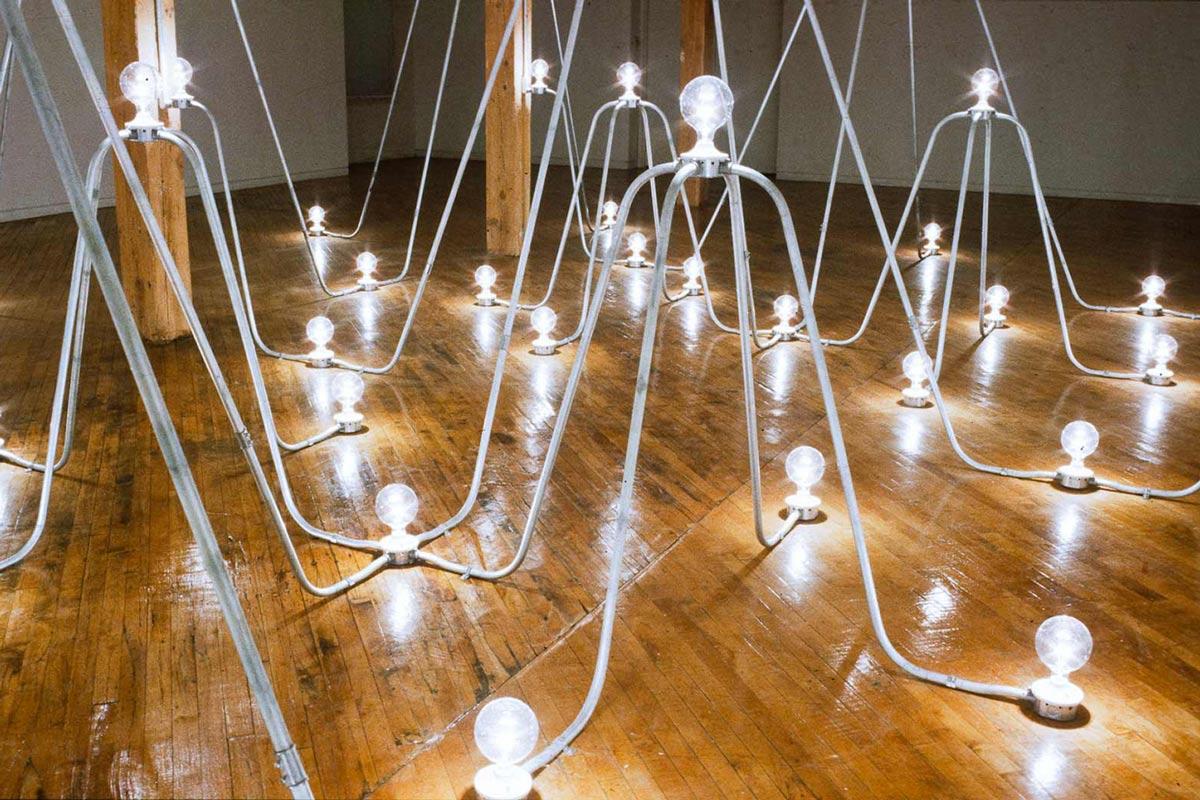 Exhibition Dates Announced for Nancy Holt "Light and Language" at Lismore Castle Arts
We are happy to announce new dates for the exhibition Light and Language at Lismore Castle Arts. The exhibition will open from March 27, 2021 and will be on show through to October 17, 2021.
Light and Language unites Nancy Holt with five contemporary artists: A.K. Burns, Matthew Day Jackson, Dennis McNulty, Charlotte Moth, and Katie Paterson.
Nancy Holt was an artist who rethought the limits and possibilities of art. For five decades she asked difficult questions about how we understand our place in the world. Her art continues to inspire and recalibrate the possibilities of what art can be, and where it can be found. In bringing together past and present, the exhibition traces the indelible legacy of Holt.
At the center of Light and Language is Holt's room-sized Electrical System (1982), seen above. Presented for the first time in more than three decades, Electrical System is an example of Holt's innovative systems works variously working with light, heat, and water.
Holt described: "the electrical systems light, the heating systems heat. The drainage systems drain, the ventilation systems circulate air […] the sculptures are exposed fragments of vast hidden systems, they are part of open-ended systems, part of the world."
Fourteen other rarely seen works by Holt join Electrical System. Spanning 1966 through to 1982 they range from concrete poetry, to photographic experiments with light and shadow, works relating to her iconic earthwork Sun Tunnels (1973-76), and her video collaborations with Richard Serra, Boomerang (1974) and Match Match their Courage. Within Lismore town are Holt's Locators that, as she described, are "literally seeing devices" simultaneously focusing, extending, and showing the limits of vision.
The five artists joining Nancy Holt in Light and Language, like Holt, open questions about perception and the way we might understand our place in the world. Working with sound, sculpture, performance, words, and light, each artist has chosen works for the exhibition that resonate with their fascinations for Holt's ideas and artworks.
In the galleries A.K. Burns (b. 1975, USA) presents an evocative film of a total solar eclipse, while in the castle grounds a pair of sculptures made from mangled and painted chain-link fencing stand face to face. Matthew Day Jackson's (b. 1974, USA) Commissioned Family Photo (2013) comprises eighty-two photographs taken with a camera capable of capturing over a million frames per second. It was designed to record explosions and shockwaves from nuclear detonations; the artist and his family are the only human beings ever to have been photographed by this camera.
Dennis McNulty (b. 1970, Ireland) also works with technology. He presents a live performance working with samples of Nancy Holt's voice in the 1974 video Boomerang with a mesh of sounds. Charlotte Moth (b. 1970, England) and Katie Paterson (b. 1981, Scotland) both make new works for Light and Language, responding to the unique architecture of Lismore Castle.
Nancy Holt, Electrical System (detail) (1982)
Steel conduit, sockets, light bulbs
Installed at David Bellman Gallery, Toronto, Canada.
During her lifetime Holt presented two versions of this sculpture, preceded in August 1981 by a studio version at her 799 Greenwich Street, New York City loft. In January 1982 Electrical System (For Thomas Edison) was presented at John Weber Gallery, New York City, and in February 1982 Electrical System II: Bellman Circuit at the David Bellman Gallery, seen above.
© Holt/Smithson Foundation, Licensed by VAGA at ARS, New York