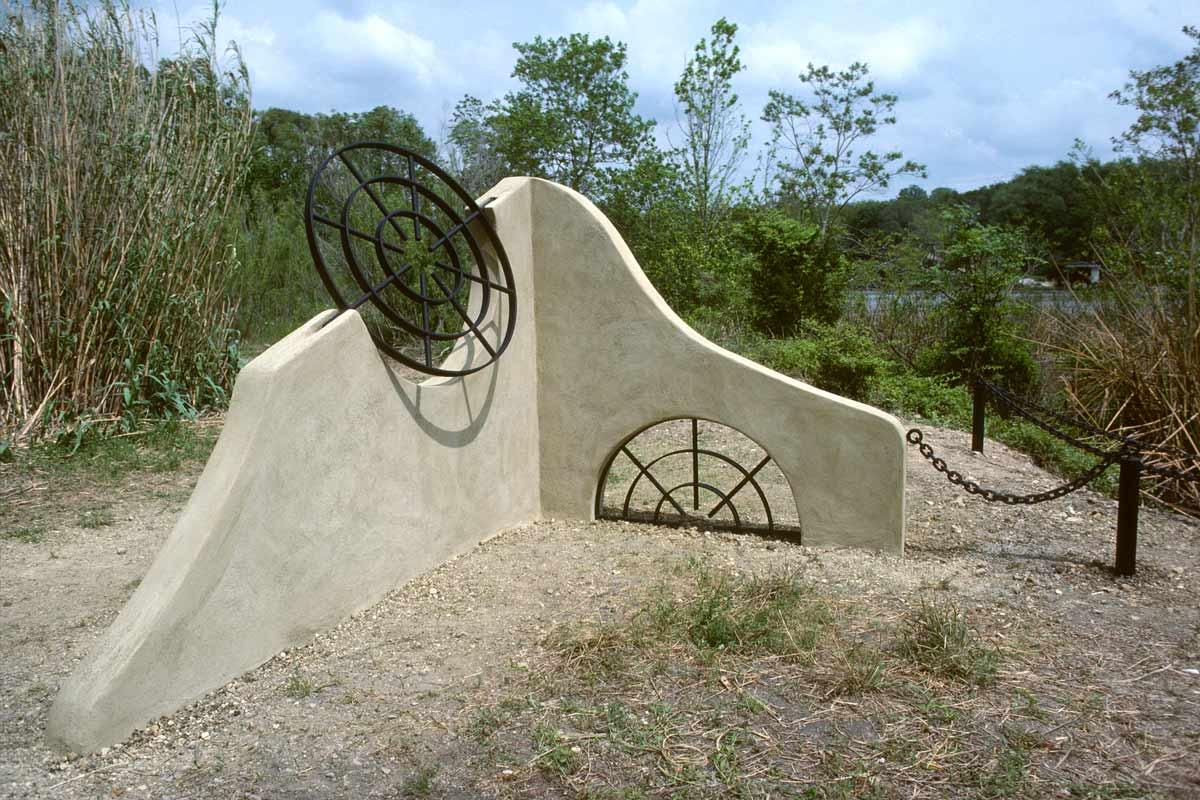 Nancy Holt's "Time Span" joins the collection of The Contemporary Austin
We are very pleased to announce the gift of Nancy Holt's Time Span (1981) to the collection of The Contemporary Austin.
Commissioned for The Contemporary Austin's fourteen-acre, lakeside Laguna Gloria site—formally known as the Laguna Gloria Art Museum—the site-specific installation has been on view through a long-term loan agreement since its creation in 1981.
In Time Span, Holt highlights the overlapping cycles of personal and astronomical time. Each year on April 5, the artist's birthday, a shadow is cast by the afternoon sun through the sculpture's steel wheel to frame a plaque on the ground inscribed with the artwork's date of completion, also April 5. Despite the solidity of its materials, Time Span reflects change, offering variable sight lines of the surrounding landscape at different times of the day and year.
In April 2021 the acquisition will be celebrated with a series of discussions and films, programmed in partnership with Austin Film Society.
"We are deeply grateful to the Holt/Smithson Foundation for making it possible for The Contemporary to permanently acquire a work that so poetically communicates with the landscape of this very special place," said Margie Rine, Interim Director of The Contemporary Austin.  "Time Span has been appreciated by visitors to Laguna Gloria for nearly four decades. This gift—paired with The Contemporary's robust exhibition and education programs—will now ensure that Nancy Holt's vision can be preserved and shared with countless future generations."
Lisa Le Feuvre, Executive Director of Holt/Smithson Foundation says: "Nancy Holt is an incomparable artist whose work has laid the ground for the art of today. Holt was dedicated to exploring how we might perceive the world around us in new ways. She was fascinated by the relationship between time measured by the sun and human existence. Time Span is a very special work to the artist, and we are honored it joins the important collection of The Contemporary Austin—who were visionary in commissioning this sculpture nearly four decades ago. Every year on April 5, the artist's birthday, the sun creates a shadow pattern encircling a plaque inscribed with the day's date. We look forward to celebrating this day with The Contemporary Austin for many years to come."
Nancy Holt, Time Span (1981)
The Contemporary Austin, Laguna Gloria, Austin, Texas
Concrete, stucco, steel
Overall dimensions: Ht: 7 ft. (2.1 m); W: 11 ft. (2.4 m); L: 50 ft. (15.2 m); Wheel: 4 ft. (1.2 m) diameter
©Holt/Smithson Foundation, Licensed by VAGA at ARS, New York