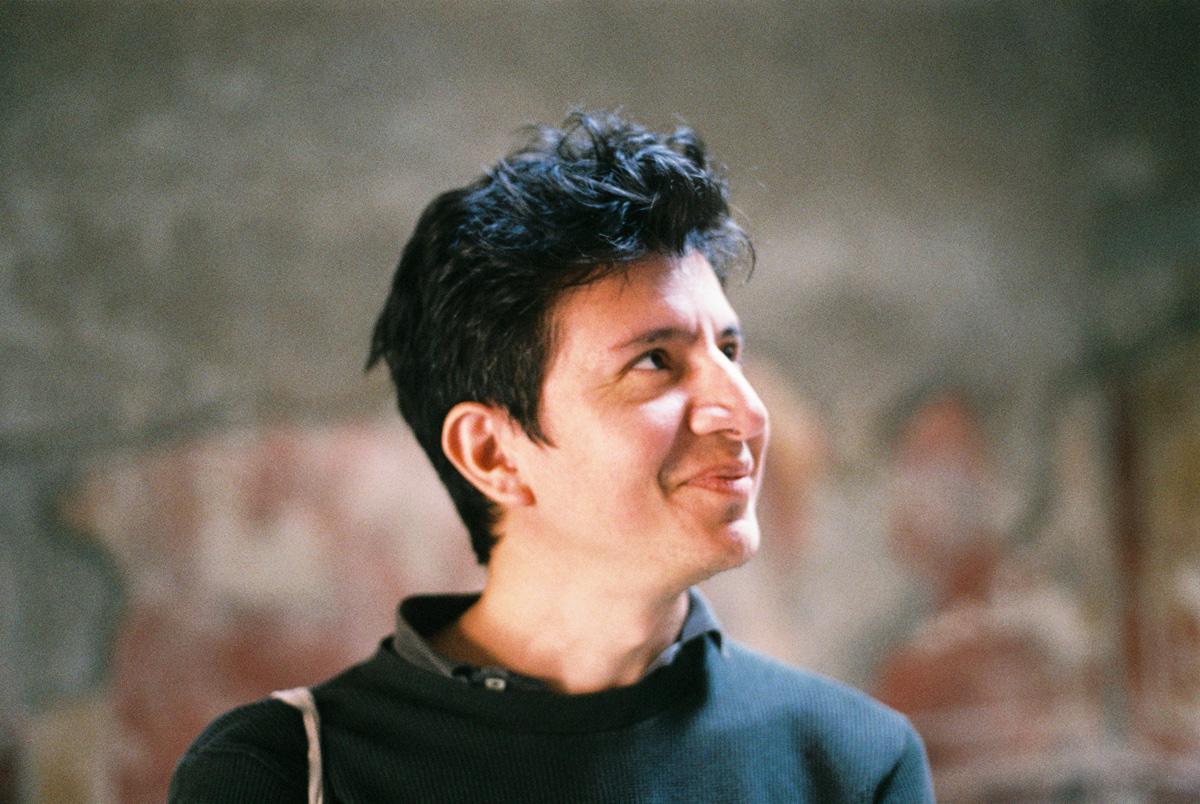 Island Project Artist Oscar Santillán named 2022-2023 Lunder Institute for American Art
Holt/Smithson Foundation congratulates  Oscar Santillán on his selection as a 2022-2023 Senior Fellow at the Lunder Institute for American Art. Santillán is one of the five artists selected to participate in The Island Project: Point of Departure, responding to an island off the coast of Maine that Nancy Holt and Robert Smithson purchased sight-unseen in 1971.
From the Lunder Institute:
For the 2022-23 academic year, the Colby College Museum of Art's Lunder Institute for American Art, in collaboration with the Holt/Smithson Foundation and the Davis Institute for Artificial Intelligence at Colby College, is pleased to announce that visual artist, cybernetician and writer Oscar Santillán has been selected as a 2022–23 senior fellow.
His practice emerges from the notion of "Antimundo," which he understands as "a way of identifying and generating realities that do not fit in the world." For this purpose, he has resorted to forms of knowledge production and imaginaries overlooked by mainstream Western thinking, such as cybernetics, science fiction, ancient cosmologies, a more inclusive history of science and plant intelligence. This "Antimundo" toolbox is complemented by disrupting paradigms, such as artificial intelligence and synthetic biology. Santillán (b. 1980, Ecuador) splits his time between Ecuador and the Netherlands.
This fellowship will directly advance Santillán's commission from the Holt/Smithson Foundation for the The Island Project: Point of Departure, to create new work and respond to Little Fort Island, a small island off the midcoast of Maine. The artist Robert Smithson purchased the island in 1972 but never made an artistic intervention there. Partnership is integral to all that Holt/Smithson Foundation does, and the Island Project partners with artists to consider how this island site can generate ideas, raise questions and inspire artworks. The first idea to come to fruition is by Oscar Santillán, and his senior fellowship at the Lunder Institute will move the ideas forward. Santillán will research, develop and pilot a project that conjures Little Fort Island as a sentient entity and imagines the possibilities of communication and expression among biological, technological, human and animal realms.
Lisa Le Feuvre, Executive Director of Holt/Smithson Foundation, says, "Nancy Holt and Robert Smithson transformed the world of art and ideas. Since our inception, working in partnership has been at the heart of Holt/Smithson Foundation's activities. We are honored to be working with Oscar Santillán and with the Lunder Institute at Colby College to think through what Land Art might be for our times." The making of this speculative artwork will draw from artificial intelligence, indigenous knowledge, haptics, psychology, neuroscience, ecology, creative writing, performance and other fields of knowledge and practice. In the spirit of Nancy Holt and Robert Smithson, The Island Project sets out to develop innovative ways of exploring our relationship with the planet.
"It is a real honor to develop this new project as part of the community of curious minds at Colby," said Oscar Santillán, who added, "I am looking forward to learning from the community, igniting some fires, and making sense out of the unknown as a collaborative effort." As part of his fellowship, Santillán will interact with students, faculty and staff across campus through courses, workshops, talks and discussions. Additional public engagements will be offered through the Colby Museum and the Davis Institute for Artificial Intelligence. Santillán will visit Maine and the Colby campus during the 2022–23 academic year, including the month of January, when he will teach a course related to his research and practice.
Santillán will virtually present the 2022 Miles and Katharine Prentice Distinguished Lecture on Thursday, November 10, cosponsored by the Colby Museum, the Davis Center for Artificial Intelligence and the Buck Lab for Climate and Environment. The talk will be followed by a live Q&A and a reception for those physically in attendance in Ostrove Auditorium, on Colby's campus.
"We are very excited to collaborate with the Holt/Smithson Foundation and the Davis AI Institute, to bring such an amazing artist, innovative thinker and practitioner to Colby," said Erica Wall, director of the Lunder Institute. "Oscar Santillán's research and practice is a perfect representation of how one artist and his ideas can generate new realities, through and around a diverse group of disciplines. Oscar's work demonstrates how beautifully and naturally artists, scientists and ecologists work alongside one another."